Boiler scale is a mixture of several minerals which settle on the walls of pipes or containers where hard water is being heated.
Complications occurs mostly in boilers with open water circuit. Boiler scale has a minimal thermal conductivity which causes a significant drop of the boiler efficiency.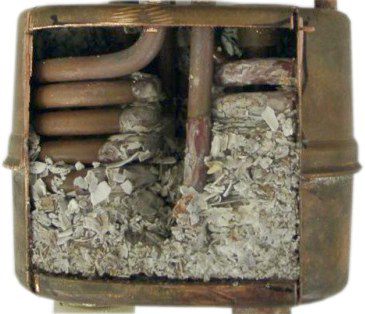 Boiler scale can grow up to several layers which cause parts of the boiler to cool irregularly. There is a risk of its cracking and since the boiler can be under pressure, there is also a risk of explosion.
Clogged boiler can be predicted by lowered efficiency or various metal sounds such as humming, beats or cracking.
Common content of boiler scale
calcium carbonate calcium carbonate
calcium sulphate
magnesium sulphate
magnesium hydroxide
magnesium silicate
calcium chloride
magnesium carbonate
Invalid Displayed Gallery
Manifestations of boiler scale
Clogged boiler, clogged pipes, ruined immersion heater, sediment on the boiler, lowered efficiency of the boiler, ruined boiler,Zanesený kotel, zanesené potrubí, zničená topná spirála, úsady, nános na kotli, nízká účinnost kotle, zničený bojler.
Removal of boiler scale
Since the boiler scale appears due to hard water, it is necessary to soften it before it enters the circuit. The softening is done by hard water running over the ionexe cartridge which can bind substances causing the hardness.
We usually use the device called AquaSoftener with the matching capacity. It is always necessary to start with water analysis which points to the substances needed to be reduced.
Ask for a solution to a water problem