Removal of iron, manganese, hardness, ammonium and COD
Multifunctional solution for water treatment
Reduces wear and tear on appliances and power consumption
Apartments, houses, cottages, smaller businesses
The device is fully automatic
Apartments, houses, cottages, smaller businesses
+420 224 811 900
Usage
AquaEmix is ​​a multifunctional water treatment plant with a wide range of filtered substances, effectively addressing the most typical water quality problems. AquaEmix reliably removes iron, manganese, hardness, ammonium ions and organic impurities from water.
This combined water treatment solution delivers two to three times cost savings compared to conventional technologies.
Iron and manganese cause stains on sanitary and loundry. They settle in the pipelines to wash out as rust or dark brown suspension. Water hardness causes incrustations on pipes, fittings, boilers, washing machine heaters, and kettles. Ammonium ions and organic substances promote the occurrence of bacteria and in themselves are harmful to health.
In groundwater from wells, the limits for these parameters are often exceeded all at the same time. Thus, AquaEmix combines the functionality of up to five different devices in one.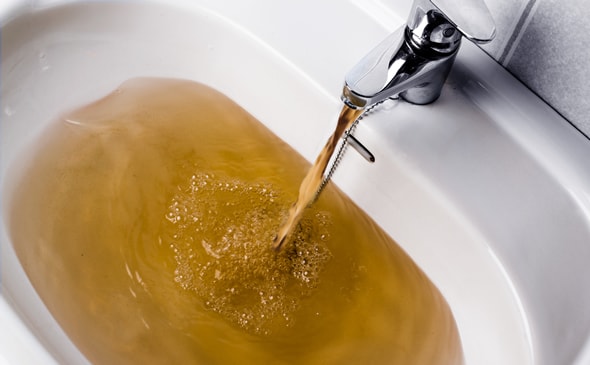 Function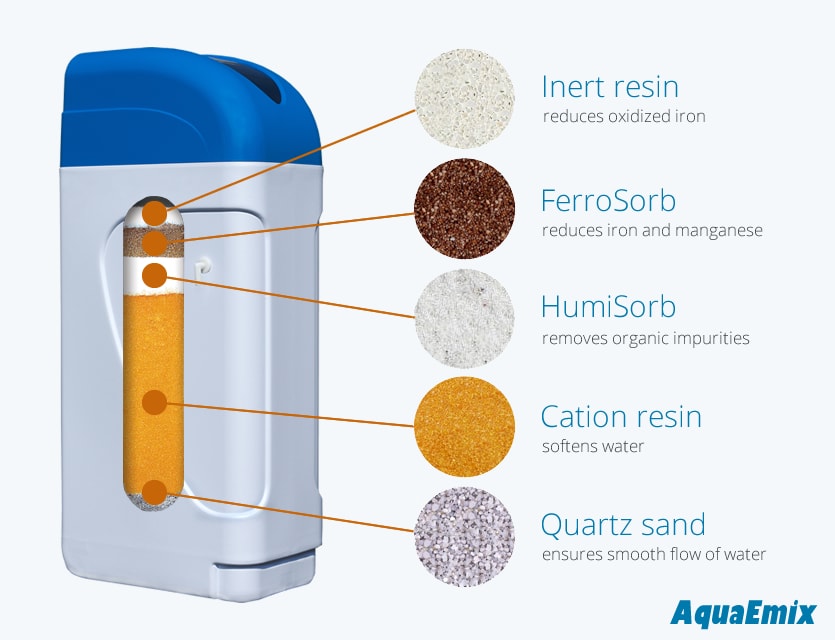 AquaEmix works on the principle of ion exchange, when a special patented filtration mixture catches unwanted substances.
The cartridge is regularly regenerated with brine.
Regeneration does not require a high flow of water or a large amount of tablet salt, and AquaEmix is therefore economically ahead of other similar products.
Installations
The AquaEmix can be connected to the main water supply to a building or a device using a bypass fitting.
The outlet of wastewater that flows out of the filter during the regeneration is introduced to a drain. The final step is to set the control valve to suit your needs.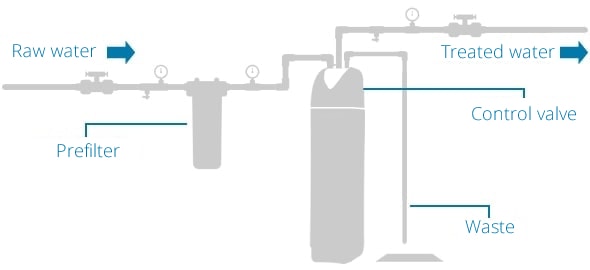 Parameters
| | |
| --- | --- |
| | AquaEmix 450S |
| Dimensions in mm (width/height/depth) | 1150x520x340 |
| Weight (kg) | 36 |
| Input / Output Connections | 1″ |
| Waste connection | 1/2″ |
| Flow (m³/h) | 1,2 |
| Operating temperature: (˚C) | 5 – 45 |
| Average regeneration time | 60 min |

Power supply: 100-240V| Operating pressure: 1,5 – 6 bar

Automatic operation
Long
service life
Easy
installation