Elektrolytical treatment plants EUROCLEAN KEUV TUV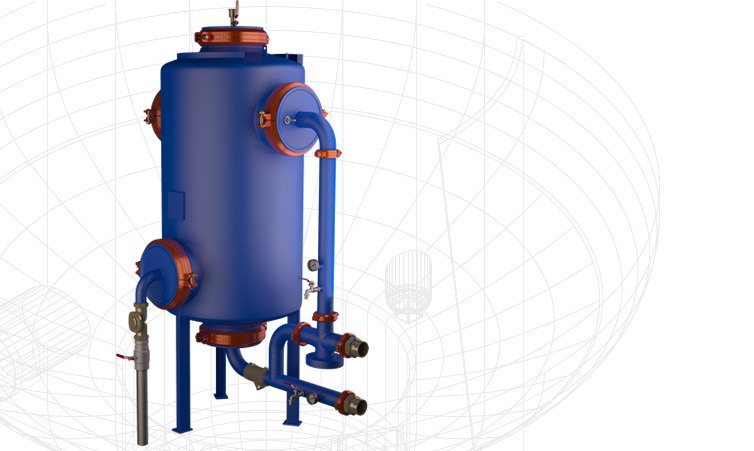 Benefits of this product
corrosion removal from pipes
rise of the quality of the HNW at minimal operational costs
savings on the maintenance and operation of HNW creation technologies
prolonging of the lifespan of pipes
extending of the period of exchangers' cleaning
removal of impurities from the circulation of the HNW
no damage to the environment
Where to install the device
systems of the hot non-potable water (HNW)
exchangers
apartment buildings
businesses
Fully automated operation
Function of the plant
1. Continuous filtration of iron compounds, sewadge and insoluble substances from HNW
KEUV-TV can be used on any heating system of HNW that uses circulation. On classical hairpin exchangers, counterflow, plate or other kinds of exchangers, pipes made of iron, galvanized, stainless or plastic. The plant prevents corrosion. Iron compounds and insoluble matters usually build up during a minimal flow at day and in the night in the horizontal pipes, exchangers and other similar spots with a lower flow.
In the peaks, usually between 7 and 8PM people sometimes complain about the quality of HNW due to an entrainment of these sediments caused by an elevated flow. The plant continuously captures iron and insoluble matters from HNW, which are then physically removed from the system and therefore the pipes are being protected from the sediment, as well as the exchanger and other technology, especially outside the peaks and during cold and hot non-potable water shutdowns.
The whole process happens entirely ecollogicaly, with no chemicals being added, with no need to exchange the filtration media and no need for attendance. The effect of the plant is very quick, complaints stop immediately after installation. The corrosion in Your pipes and colored water will be the past.
2. Protection of the exchangers and hot water pipes from a calcium sediment build-up
Besides removal of corrosion from pipes the plant can be used anywhere where calcium sediments come to existence in exchangers and pipes, to stop growth on watermeters, stop clogging of the filters of aerators etc.. It is suitable for any kinds and materials of the pipes. In the iron and galvanized pipes it eliminates the build up of sediment that over time causes the aperture of pipes to reduce, in plastic ones it is very effective against the limescale in form of balls and flakes.
These clog the aerators on the outlet and over time lead to a complete clogging of plastic nodes and spots where these calcium products get collected the most. On the plate exchangers it eliminates the neccessity of their frequent mechanical, resp. chemical cleaning. Thanks to the clean heat exchanging surfaces there is no loss or mistakes while regulating the heating up of HNW. Only an exccessive calcium which is released during the heating process gets removed which significantly prolongs the lifespan of the pipes and reduces costs necessary for its maintenance.
This also means that thanks to the EuroClean plant the water gets back its original calcium-carbonate balance as it had before the heating process. The plant can be used on the water with maximum hardness of 15ºdH. For higher hardness only when using softening at the same time.
3.Additional disinfection of the hot water
The plant provides an additional disinfection of NHW and contributes therefore to reducement of microbiological life in the pipes. On the katode and anode surface redox reactions happen and a small amount of clorine and oxygen free radicals develop. These radicals help to keep the often discussed colonies of Legionella Pneumophilla bacteria at an acceptable level.
Technical data
| | | | | |
| --- | --- | --- | --- | --- |
| | KEUV-TV MINI | KEUV-TV01 | KEUV-TV02 | KEUV-TV03 |
| Max flowm3/h | 3,5 | 6 | 14 | 25 |
| Appropriate for number of apartments | 20-40 | 40-100 | 100-600 | 600-1000 |
| DN income/outcome (mm) | 40 | 50 | 50 | 80 |
| Max. el. usage (W) | 30 | 55 | 95 | 125 |
| Max. operational temperature (ºC} | 65 | 65 | 65 | 65 |
| Max. operational overpressure (MPa) | 1 | 1 | 1 | 1 |
For download
Installed devices

Place a non-binding query
Removal of iron and manganese from water, iron in the water, manganese in the water, incrusts, rusty water, red water